Samat, Ecovadis gold medallist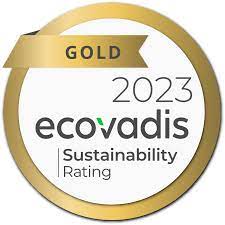 Our Group has been awarded the Ecovadis Gold Medal, a platform for assessing CSR performance, for the year 2023.
With a rating of 72/100, which represents an increase of twenty points compared to 2022, Samat ranks in the top 5% of Ecovadis' most CSR-compliant companies.
After winning a bronze medal in 2022, this award recognizes our ability to place societal impact at the heart of our activities, particularly in terms of the environment, social responsibility, ethics and responsible purchasing – the four themes assessed by Ecovadis.
"This year, the reorientation of the format of our responses, with complete reports by CSR pillar (Business Ethics, Human Resources, Health & Safety, Environment, Responsible Purchasing), as well as the great involvement of everyone, enabled a spectacular rise in the score." – Guillaume Gilgenkrantz, Safety, Security and Sustainable Development Manager