Samat and hydrocarbon transport

Hydrocarbons are an essential source of energy for our society. Petroleum-derived products have become part of daily life in unexpected ways, far beyond the obvious use of fuels. For many years we have been committed to our partners and have guaranteed the transport of the hydrocarbons they require under maximum security conditions. We operate this service for our customers across France and Poland.
Samat and hydrocarbon transport in 6 key figures
– Hydrocarbon transport became part of Samat's activities in 2000. Since then, we have deployed our expertise for the benefit of partners to ensure the safe delivery of their fuels.
– Today, hydrocarbon transport represents about 25% of our overall activity. It is therefore our second most important sector after the chemical industry.
– Samat has 434 tankers dedicated to fuel transport.
– Of these tankers, 180 transport bitumen on the roads.
– 30 Samat tankers are reserved for transporting fuel oil.
– We also have 27 small tankers for delivering petrol, diesel and domestic fuel.
Samat, a key link in a crucial sector of today's society
Samat is a key player in hydrocarbon transport in both France and Poland. Petroleum products are often subject to very high levels of one-off demand, requiring extreme reactivity.  This seasonal requirement concerns supplies for road, maritime and air transport in particular.
We provide our services at refineries, where operational constraints are considerable. For the maritime sector, Samat supplies depots or carries out bunkering operations directly on site. We are also present at airports where we deliver kerosene and AVGAS.
Our expertise also extends to include the transport of bitumen and heavy fuel oil intended for the navy or industrial sector. Thanks to our experience, our training and our innovative technologies, which are all deployed on a daily basis, we are able to transport sensitive products in complete security.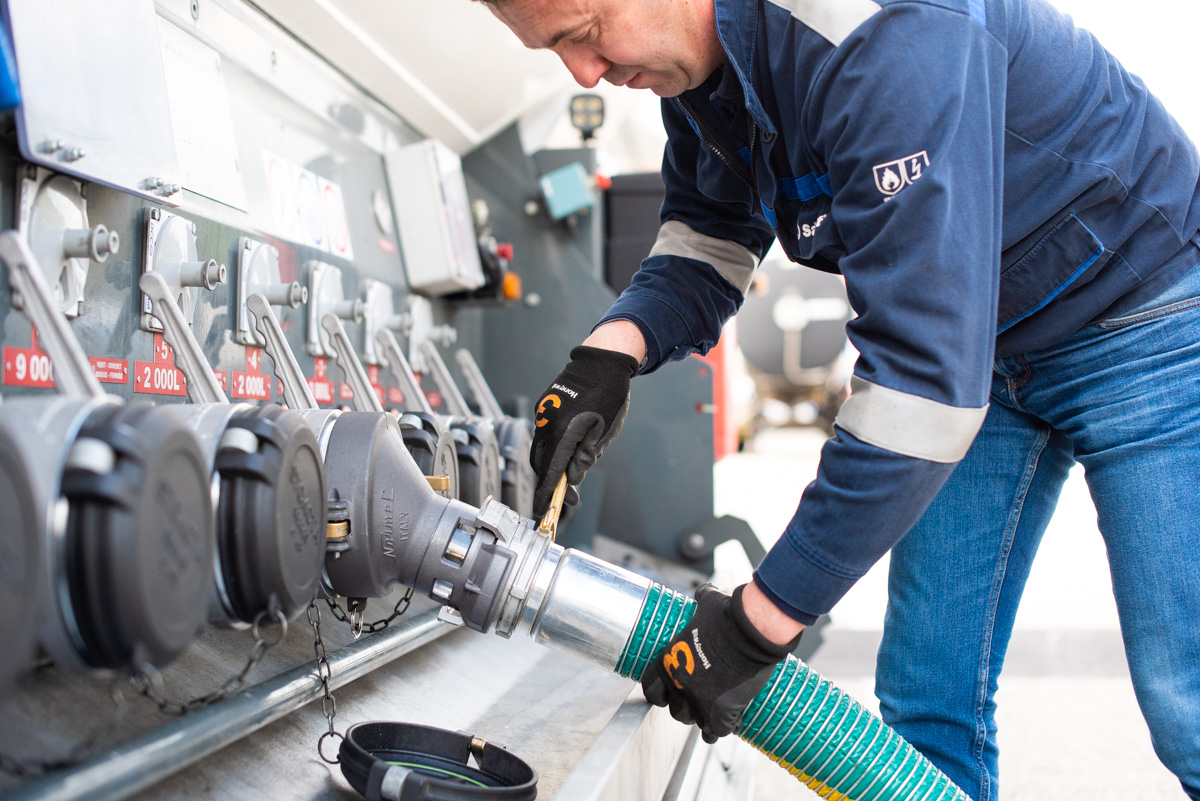 Hydrocarbon transport and Samat's QHSE policy
To guarantee the quality and security of hydrocarbon transport, we adhere to a corporate QHSE policy. From the optimisation of our resources to problems relating to sustainable development, we don't overlook a single variable.
Our tankers dedicated to the transport of petroleum products are all ADR-certified. Maintained on a regular basis, our vehicles comply with the strict requirements in force for the transport of sensitive goods. 
The human factor is a major consideration in hydrocarbon transport. We consider prevention and risk management to be our absolute priority. With this in mind, we regularly organise training, whether it be general or specific to the processes of a particular customer. Our QHSE managers, who are present on each site, also oversee the correct behaviour of all our employees. Thanks to mentoring, and also raising awareness amongst our employees, we are able to guarantee the quality of our service each and every day.