Hannu and Sari Mustakangas, three million kilometers shared

Finnish drivers at Samat, Hannu and Sari Mustakangas will celebrate 13 years "behind the wheel together" next winter. 
Haanpaa/Samat driver since 2005, Sari started out as a temporary replacement for other drivers. Hannu, on the other hand, had his own company since 1987.
As their children grew up, Sari decided to work full time with her husband Hannu at Samat. Transporting mainly petroleum products, brail and chemicals, their daily work is not very pleasant.
After long weeks of work, commuting between Finland and Sweden for 6 to 7 days, the couple returned to their small hometown Yli-li in Northern Ostrobothnia.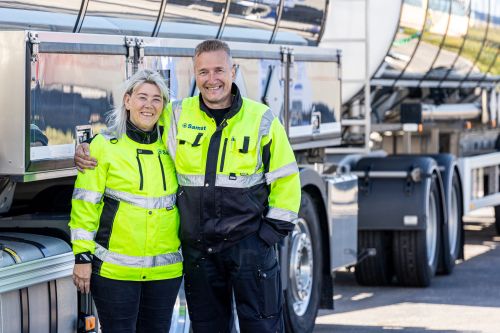 Hannu and Sari Mustakangas 
Nostalgic of their hometown, the license plate of their truck FI-11, reminds them this one:  FI for Finnish and 11 for the number of their hometown Li. This allows them to take a little bit of home with them wherever they go.
Hardworking and passionate, Sari and Hannu are highly respected by their customers and peers. "When we meet a customer, our role is to put ourselves in their shoes. We, the drivers, represent all the employees of the Samat Group! We have a duty to be operational", says Sari, "The execution of the tasks does not cost anything and we immediately feel more legitimate in our daily work. The positive feedback from the customer gives us the motivation to keep going. – adds Haanu.
With a focus on safety, Samat strives to ensure the peace of mind of all its partners and staff. Thus, a careful and protected equipment and working environment ensures a safe daily working environment. For Sari and Hannu, "Samat really knows how to invest in safety. The training offered and organized by the group is valuable. And that shows in our dealings with our customers!" and innovation also plays an important role.
Having travelled more than 3 million kilometers together, he hopes to continue and travel many more. During this life adventure, the couple has learned together from their work: "Not to become numb! remains one of the most important challenges" explains the couple. "But thanks to improved equipment and technological advances, personal safety has greatly improved," Hannu enthuses.
Thus, the two partners want to carry on their work with Samat, to continue to take on new challenges, while sharing their passion for the road together.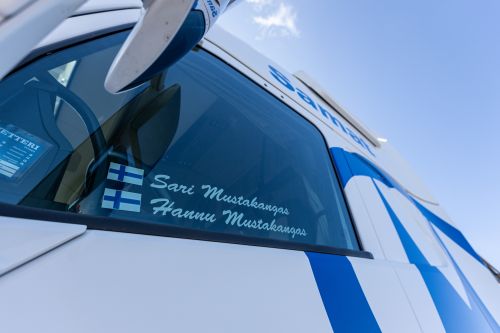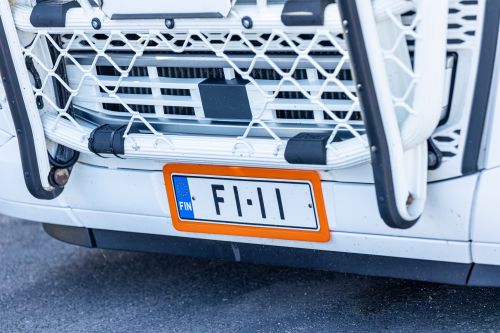 We wish them all the best!