Samat rewarded by its partner Michelin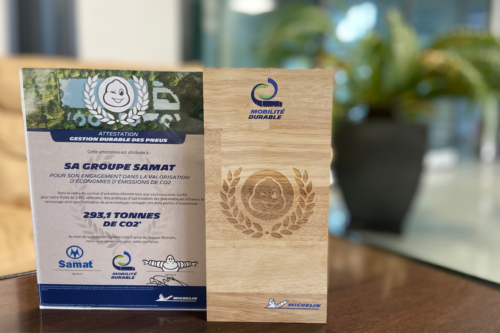 On April 3rd, our partner Michelin rewarded Samat for its commitment in the valorisation of CO2 emissions savings.
Recently launched, the Michelin group has created its own certificate for the valorization of CO2 savings. This certificate aims at estimating the CO2 emission reductions of its partners.
A Scale established
In a simple way, the certificate is based on the quantity of retreaded and recessed tires as well as on the collaborative work of our teams with theirs.
It is in particular thanks to the method known as regrooving that a significant saving of CO2 could be made.
Thanks to this method, the tires used by our company have a 25% longer life span.
Samat's commitment
Our group, which has been committed to the development of environmental values and actions for several years now, was honored to receive this Sustainable Mobility Award.
According to our partner, the effort of all the member companies (about 40 companies) has saved more than 4,300 tons of CO2 in 2 years.
The Michelin Group has thus been able to optimize its tire operations, services and solutions and further support people in achieving more sustainable mobility.