Our QHSE policy and the security of our transport

Prevention and the skill and expertise of our drivers and monitors guarantee secure transport. This transport is in line with regulatory requirements and customer demand. Indeed, as part of its QHSE policy, Samat deploys measures that aim to protect its transport from potential acts of malevolence.
"Security", defined in the ADR, namely "measures or precautions to be undertaken to minimise theft or the improper use of sensitive products. These may endanger people, goods or the environment" is therefore a priority, and one that is fully integrated in the management of our operations.
Management involvement
Management at all levels, with the support of the teams' QHSE skills, oversees security. The methods used to ensure security are constantly evolving to on the basis of permanent risk analysis to guarantee complete control.  Reviews are regularly carried out in order to identify and deal with any security-related event. Audits are performed in order test the efficacy of our mechanisms.
What training is undertaken to transport security at Samat?
The preservation of goods, people and the environment form part of the core values on which Samat is based. The training that our teams receive in these areas is an essential aspect.
So all employees who can contribute to the improved protection of the goods undergo specific training in security-related risks. This training covers the good practices to implement to ensure that goods are protected. But also what to do in the event of an emergency.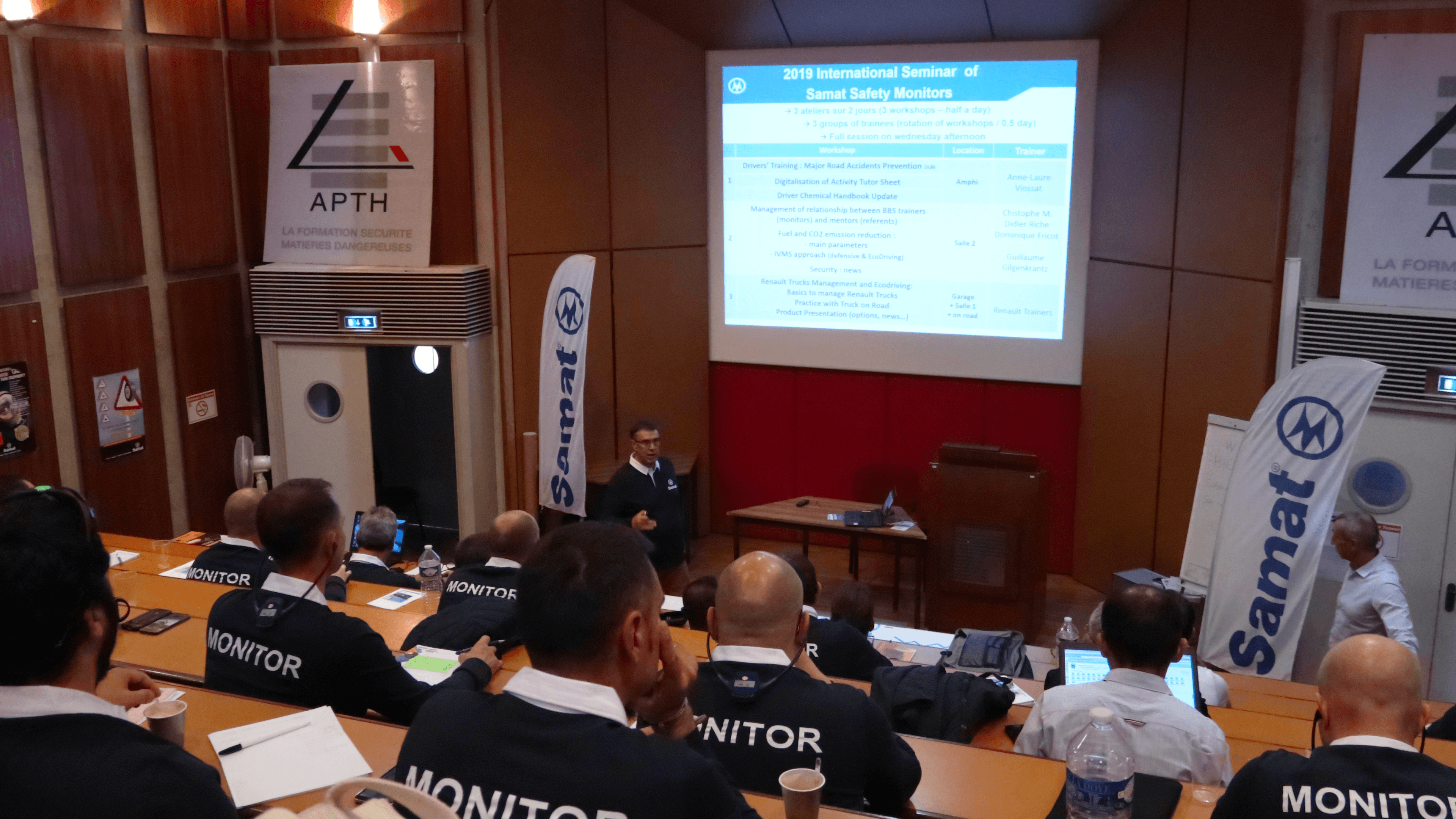 Specific security measures: the case of High Consequence Dangerous Goods (HCDG)
HCDG are subject to specific provisions, which are scaled to reflect to the vulnerability of the product. Drivers play a vital role when they are on the road in terms of ensuring the security of the operations for which they are responsible.
Our employees apply precautionary measures when transporting these products. These measures include specific route management, the sealing of the entries and exits of cisterns for the most sensitive products. Particularly sensitive products are monitored by parties in close contact with our drivers.
How does Samat oversee the security of its sites?
Our sites are subject to reinforced vigilance methods. Our main park-ups benefit from a video-surveillance system to persuade external parties from possible malevolent acts. For the most sensitive products, parking areas are located in an optimal way within the park-ups, with additional measures such as the use of barriers and defensive fences (height, concertina…), product management on site, etc.