Passion for a job, focus on Samat women drivers

On the occasion of International Women's Day, on March 8, we brought together, for one day, the French Samat drivers. Among them, Angélique, Béatrice, Caroline, Fanny, Laetitia, Marie-Christine, Marine, Pamela, Rachel, Sandrine, Séverine, Tiphanie, Valérie and Véronique.
During this day, we discovered profiles that are as unique as they are atypical. However, it is a common passion that brings them together: "no more and no less the passion to drive this type of vehicle", Marine, Samat Rhône-Alpes.
The passion of the profession animates the daily life of each Samat driver. Every day, they put their profession on the road to music: attention, observation, organisation and courtesy, nothing is left to chance.
Man or woman, there is no distinction. "There is no man/woman here. There is solidarity between drivers, recognition from the employer", according to Sandrine, Samat Aquitaine driver. Every day they share the road with more than 1,000 Samat drivers. It's not uncommon for them to chat, help or have coffee with them.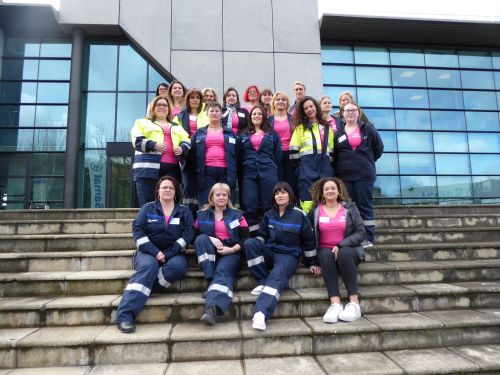 With a daily life punctuated by the demands of the job, Samat drivers have chosen to work in a job that makes sense: a job where every day is different. This is why it is essential for us to make sure that every day runs smoothly.
Séverine, Samat Atlantique driver for 1 year and a half in general goods activity, emphasizes the association between the job and family life: "I have a husband who also drives. I've managed to reconcile my family life with our jobs, including my Samat contract which means that I start at such and such a time, so that I can put my children in school. I thought it was great that Samat gave me the opportunity to take over my truck so that I could reconcile my family life, because it can be a brake as a woman".
The fact that Samat women drivers are flourishing in their profession is also thanks to the professional development that is possible. Laetitia, Samat Provence driver, is currently experiencing this: "I've been working for Samat for about nine months, almost 10 months. I started out as a porter and since the end of January I've had my EC (super-heavy goods) licence. So that's it, I'm starting to leave with big tanks. I made hydrocarbons and now I'm interested in everything, so I'm going into chemistry. I hope to make jet and bitumen. It's a great job opening."
Few and from all over France, the drivers almost never cross paths. The "Samat drivers' day" allowed them to get to know each other and discuss their daily lives. "We feel good in the company, they make us feel at ease at the beginning, I think that it helps us to make sure that everything goes well", Tiphanie, Samat Sud Toulouse.
Proximity is a state of mind, a culture, which we integrate into the principles we defend. That's why "despite the size of the company, there's still the human side that's there", Marine, Samat Rhône-Alpes.
More than transport, we are a European network, with a family heart.
Interview by M.Ravit